We are a charity based in Chesham, Buckinghamshire empowering young people in Africa (and the UK) to help themselves by developing the skills and knowledge needed to find gainful employment or start their own business. 
We do this by refurbishing donated tools to a high standard and shipping them to training centres and self-help organisations. In 2015 we received the Queen's Award for Voluntary Service.
Our Chesham workshop operates with a community of dedicated volunteers who bring a wealth of skills and abilities to refurbish donated tools. We also offer opportunities to young people with rehabilitation needs, mild to moderate learning disabilities and those facing employment challenges, to learn valuable life lessons and vocational skills.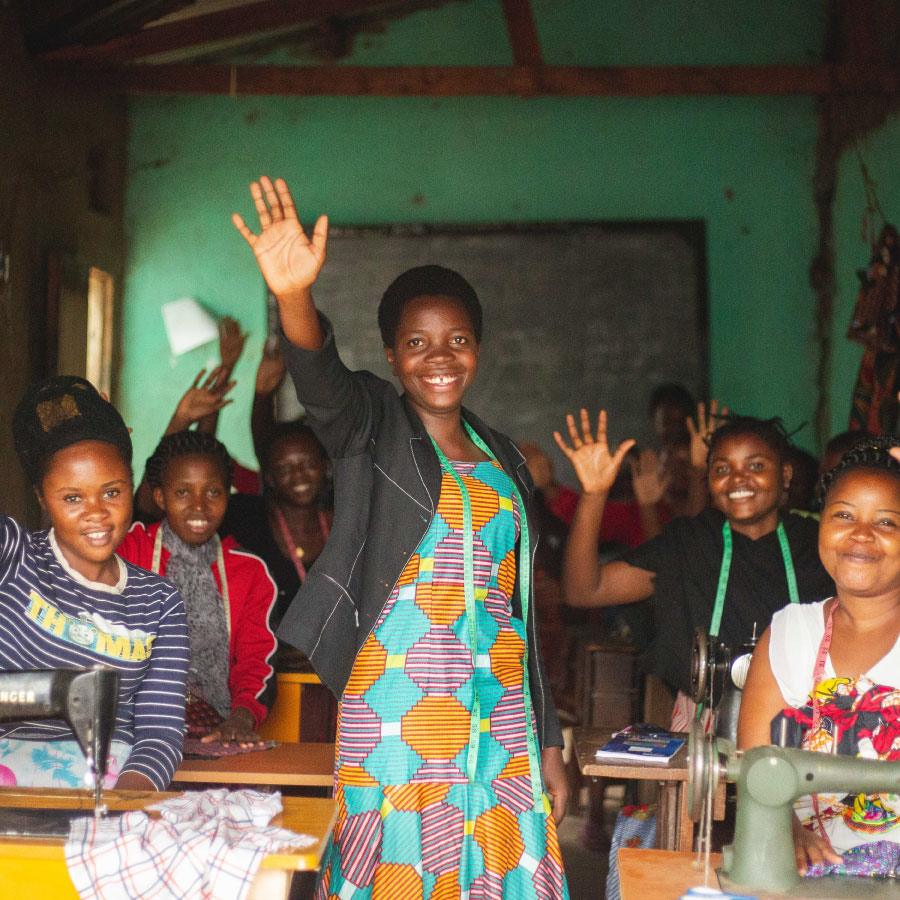 Workaid enables young people in Africa to build sustainable livelihoods.
A world in which all young people are able to achieve full and productive employment.
We believe . . .
In empowering young people to help themselves
In the re-use and recycling of the world's resources
In the benefits of volunteering
In the practice of non-discrimination, respect and equality of opportunity for all 
In understanding and improving the impact of our work
In actively participating in the local community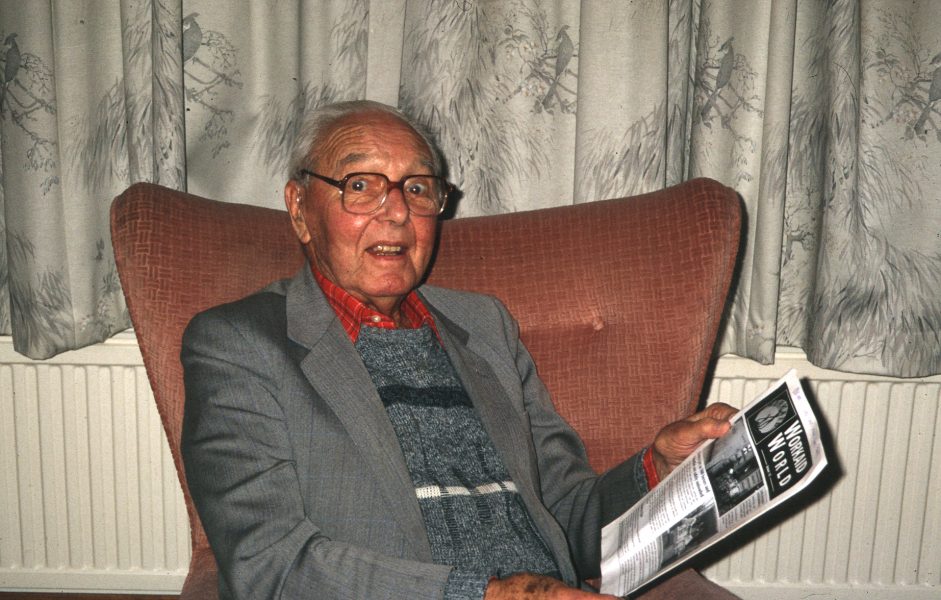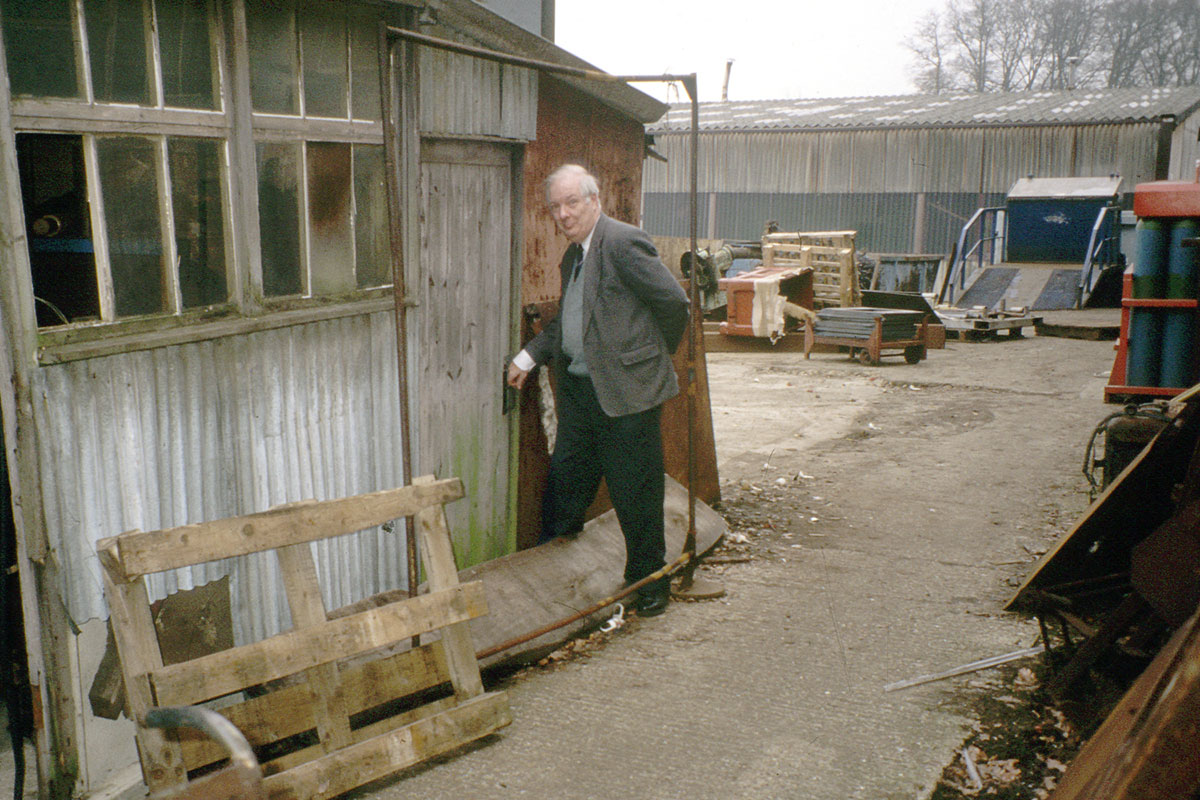 The 1980s saw one of the worst humanitarian disasters of the twentieth century. In 1984, famine in Ethiopia left over one million people dead and a further eight million at risk of starvation (source BBC).
As governments and individuals were concentrating their efforts on emergency relief following the Live Aid appeal, a group of friends from Buckinghamshire who were determined to provide long-term practical assistance began a ground-breaking project, to help the people of East Africa escape the cycle of poverty and rebuild their lives.
In response to the vivid reports of the famine, brought to public attention by journalist Michael Buerk, Ken Nunn – a local solicitor – called a meeting which was attended by 30 people from churches and the local community. A committee was formed, with Ken as Chairman and local businessman John Boughton offered space in his premises in Little Chalfont. This became Workaid's first workshop. After much preparation and hard work, Workaid officially opened for business in April 1986 and formally registered as a charity soon after.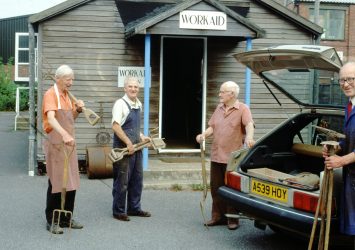 Quick Expansion
This very first group of volunteers set to refurbishing donated tools and equipment. These were then sent to projects where vulnerable people in East Africa could learn trade skills, grow crops and produce goods for sale in order to earn a living.
As more volunteers joined the team and the supply of tools and equipment increased, Workaid soon outgrew the premises in Little Chalfont. Fortunately, they were offered a hut at the Free Church in Amersham from which they then moved to a unit generously loaned by GE Healthcare, also in Amersham.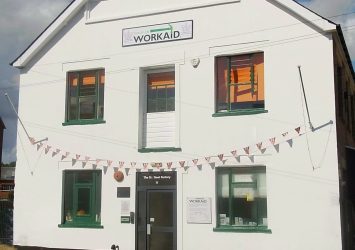 Our Workshop
In 2008 we moved into a large warehouse/workshop which was formerly a boot and shoe factory in Chesham.
Along with the workshop, we now have a shop specialising in tools and hardware, gardening equipment, lawnmowers, electrical items, craft materials, haberdashery and sewing and knitting machines. These items are unsuitable for the projects we support and all proceeds help us cover our operating expenses and the cost of shipping.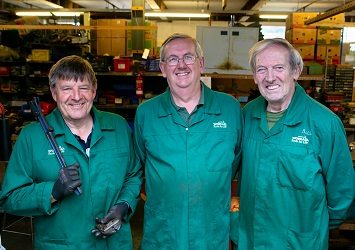 Workaid Today
Today, we operate with an enthusiastic team of volunteers from all kinds of industries who bring such a wealth of skills and abilities.
Each year, we receive hundreds of applications for tools and equipment from groups that are carefully evaluated to ensure that they can help deliver a brighter future for those involved, fulfilling as many as possible.
To assist the thousands of people each year to escape the cycle of poverty we always need your help whether it be to volunteer your time and skills, to donate tools and equipment, to support us financially through a legacy or donation, or to purchase from the Shop.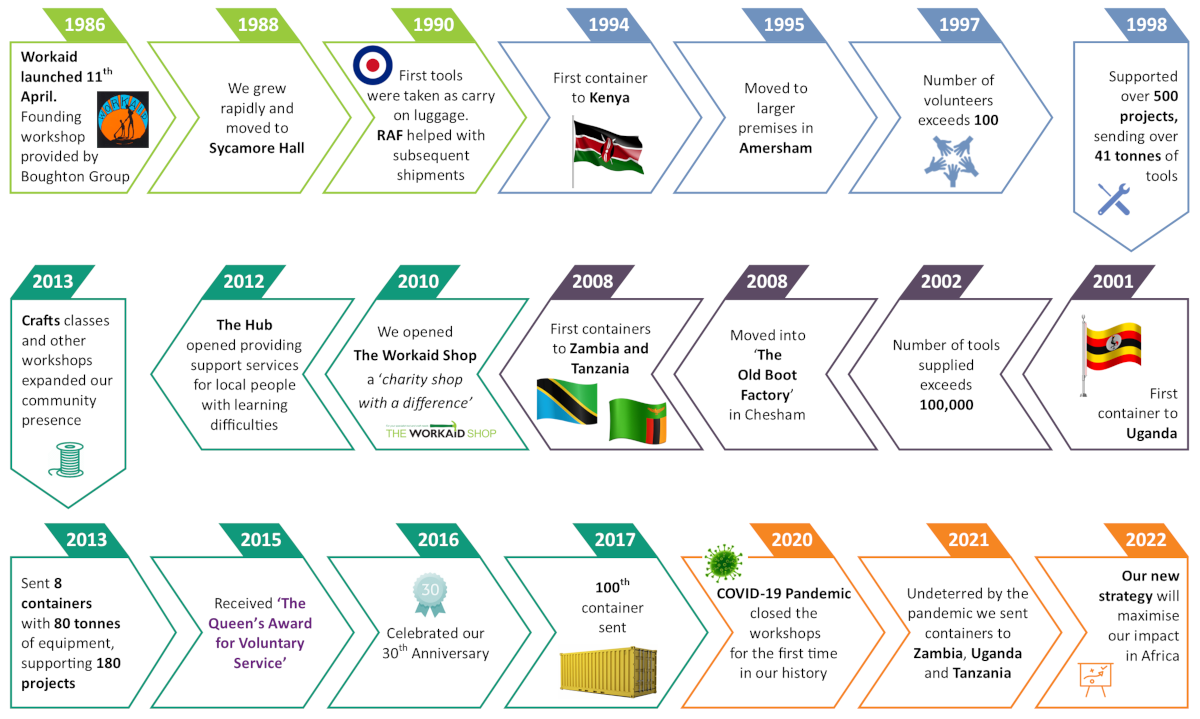 Current Vacancies
Join Our Team