Big Give Christmas Campaign
Thank you for helping us reach our 2022 target!
Thank you to all our supporters who helped us reach our 2022 Big Give Campaign Christmas Campaign Target of £12,500. The appeal enabled Workaid to develop it's programme and provision of quality vocational training in Zambian Schools. In a recent interview between Annie Njovu, Head Teacher at Bulungu School and our country partner Vwila Foundation, she talks about the postive impact of providing vocational training to the young people and the community.
Workaid will be taking part in the Big Give Christmas 2023 Campaign … more details to follow.    The 2023 appeal will run between Tuesday 28th November and 5th December.
Big Give Christmas Campaign 2022 
As in previous years, Workaid will be participating in the annual Big Give Christmas Challenge.
Our focus for this year's campaign is on the development and provision of quality vocational training in Zambian secondary schools.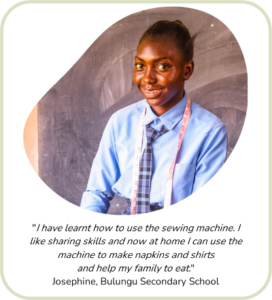 Out of the 10-12 million people who leave school each year, only 3 million find meaningful employment. This is due to a lack of tools and equipment, as well as ill-equipped workshops, which further exacerbates this problem.
Over the next three years, we aim to support over 1,500 young people across 12 schools in the Mumbwa District to gain the highest standard of vocational training. 
What better way to make a donation than knowing that whatever you give will be
worth twice as much?
We will not only provide tools and equipment for their training but also work in partnership with schools to construct covered workshops and refurbish classrooms for tailoring and design courses.
The expansion of opportunities and access for young people to pursue a career in a vocational trade sends a clear message of the value such skills can bring to their communities. On graduating the students will then be better placed to secure employment or establish their own business, lifting themselves out of poverty and inspiring the next generation.
Make your donation online from