Michael John heads to Tanzania
Container Michael John began its journey at the end of July from the Workaid workshop to Dar Es Salam in Tanzania. Filled with 859 boxes containing a variety of kits and tools that will help young people develop their vocational skills and knowledge, enabling them to escape poverty and build a sustainable livelihood. We are grateful to everyone involved in packing the container, especially Michael whom the container is named after.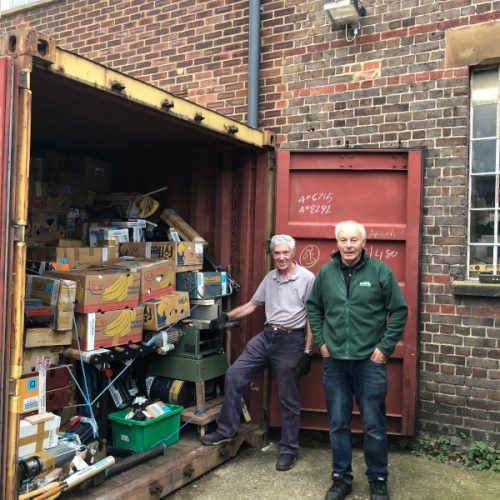 Michael is a long-time volunteer at Workaid and has had several volunteer roles since he retired from BA Systems in 2003/04. He became aware of the charity through friends at Boughtons, a local engineering company based in Little Chalfont. Initially, Michael volunteered in goods inwards but over the years he has worked in refurbishing equipment picking and packing. 
'I am happy to put my hand to whatever needs to be done,' says Michael.
After leaving school Michael completed his 5 years engineering apprenticeship and moved to Hawker Siddeley, based in Hatfield, which became BA Systems. Over the course of his career he has put his engineering expertise to work on a variety of planes including Tridents and the AirBus. During his time at BA Systems he travelled the world including USA, China and Africa.
During his time in Africa he saw the benefit of providing tools to a community. 'It became clear to me after visiting Africa that if you give people the tools they will put their hand to anything, but when they don't have the tools to start with or the equipment how can they do it or make a living?'