Maurice Holland Container
Last month Container Maurice Holland departed from the workshop in Chesham set for Lusaka, Zambia.
For our volunteers' amazing dedication, we've started giving them the chance to name a container. I hope this goes some way toward acknowledging how much we appreciate everything you do for us.
When we asked our volunteer Alistair he without hesitation, requested that the container be named Maurice Holland as a tribute to his late father.
I felt it was only fitting to share some of the life of the person it is named after.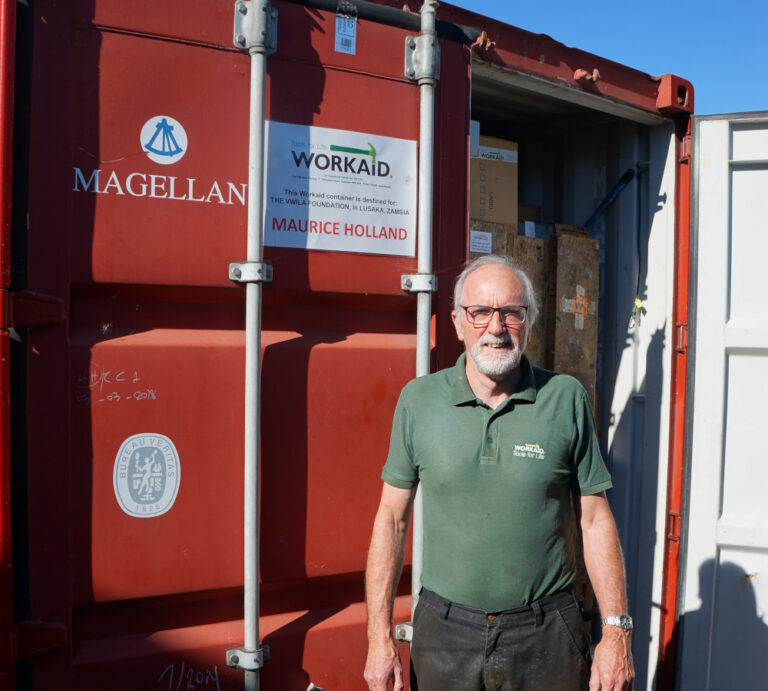 Maurice was born in 1921 in Upholland in Lancashire. He left school at 14 and joined the family joinery business started by his grandfather. Before the war H T Holland and Sons manufactured windows, doors, staircases and specialized in timber bodies for cattle trucks. At its height, Hollands had two fully equipped machine shops and employed a dozen joiners and a blacksmith.
Maurice served in the RAF from 1940 to 45 where he met his wife Frances.
After the war, he returned to the family business and also found time to build a pair of semi-detached houses for himself and his sister Ellen and brother-in-law John. In 1952 Maurice and Frances adopted Alastair their only child.
In the mid-fifties, Maurice left Hollands and ran a small general store, then had a spell building sailing dinghies before moving to Rickmansworth in 1962 to take up a desk job with Rickmansworth Urban District Council in the housing dept. In 1974 the council became Three Rivers District Council and he remained there until early retirement in 1980.
Maurice then spent the last three years of his working life as a workshop technician at Joan of Arc School helping and advising both pupils and staff on woodwork.
Having suffered various bouts of ill health in later life Maurice died in 1993 aged 72.
Maurice was a skilled joiner, wood tuner and mechanic and could repair most things including sewing machines. He would have loved the concept and ethos of Workaid and would have been an ideal volunteer.
He would be very proud to have his name on a container and knowing that some of his tools have been donated to make up trade kits for young people training in Zambia.
Alistair Holland